'Charlie Victor Romeo' is a chilling in-flight experience
By Lou Lumenick
January 30, 2014 | 3:00pm
'Charlie Victor Romeo' takes audiences on a bumpy ride. Photo: Collective:Unconscious.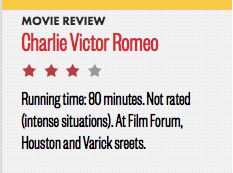 MOVIE REVIEW
Charlie Victor Romeo
Running time: 80 minutes. Not rated (intense situations). At Film Forum, Houston and Varick sreets.
You probably don't want to see this gripping 3-D adaptation of an unusual and acclaimed 1999 off-Broadway production just before your next plane trip. As they did onstage, members of A Collective: Unconscious (four are credited as co-directors) re-enact six airplane emergencies (mostly on civilian planes) scrupulously based on transcripts of cockpit recordings.
Though the camera doesn't leave the cockpit (except for fleeting closeups of the mouths of the people at ground control), this is a white-knuckle experience, as pilots and navigators (the starless actors, in multiple roles, are solid) are suddenly confronted with the likes of massive equipment failures and catastrophic weather situations.
These events take place in the pre-9/11 world, but that's small comfort when confronted by the sight of crew members arguing among themselves and ground control about what to do next. Or frantically leafing through an instructional manual to address a crippling problem that turned out to result from faulty maintenance.
Call this a spoiler if you will, but I think it's only fair to warn that only one of the incidents depicted has what you'd call a happy outcome. Still, this spartan experimental film handily manages to offer up more thrills than Hollywood blockbusters like "Flight.''